Happy Monday of Dr. Seuss week, folks! Yup, I'm declaring this week the perfect time to devote five consecutive days to celebrating the works of
Theodor Seuss Geisel
. Friday, March 2, will mark the 108th anniversary of his birth, and there is honestly
so
much going on all around now that is keeping his memory and spirit alive.
Each day this week, I'll share another fun tidbit about Dr. Seuss's books that I adore, and of course, I'll give you my thoughts about some of the new media that's being produced based on Seuss' classics. Though he's no longer with us, it's clear that the beauty of his legacy will never go away.
An easy way to start off the week is to send you in the direction of three posts I've already written about
the movie The Lorax
, releasing on Friday. I had the incredible opportunity to attend a parenting blogger event in which we watched the movie and even interviewed some of the "talent" involved in the film.
(Listen to me sounding all LA, huh?)
I really did love the movie, and that's not just the staying-at-the-Four-Seasons, getting-hugged-by-Betty-White part of the experience talking.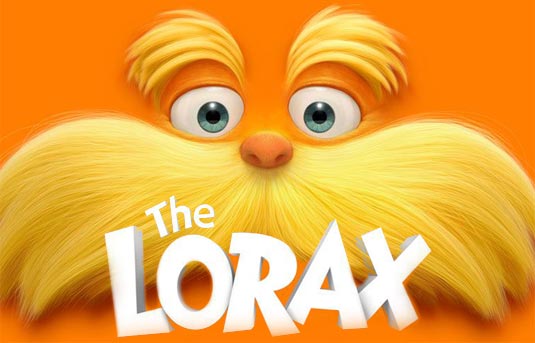 Wondering about how the
classic book stands up in the film translation
? Head over to my 5 Minutes for Books post
Books on Screen: Dr. Seuss' The Lorax.
Curious about how
Ed Helms and Rob Riggle played off each other
in our group interview? Yeah, they're really freaking funny, as I attest to in my 5 Minutes for Mom post
Ed Helms and Rob Riggle Deliver Big Laughs in The Lorax.
Bet you could never guess what
Danny DeVito likes to tweet
about. And, in case you haven't heard,
Betty White made me cry
. Read all about it in my 5 Minutes for Mom piece
Danny DeVito and Betty White, Perfectly Suited for The Lorax.
I promise you there will be more than just shameless self-promotion this week. I learned some new things about Dr. Seuss from the production notes we were given, as well as during our interview with the screenwriters of
The Lorax
. There are other fun things coming up for you parents of little ones, and I want to make sure you're prepared to celebrate Dr. Seuss week along with me!
Time for some Seussian smiles this week,